by Aica Azul 
With over 1.8M active users, Facebook has continuously innovated the application throughout the years in order to meet the needs of their current users. Facebook's recent updates—which have been further discussed by founder Mark Zuckerberg and his team during the F8 keynote—have certainly taken into consideration not only the Facebook experience of a typical user, but also how brands can use the application to create more engaging interactions with their target market.
Here are a few of their latest innovations your brand can use to increase engagement with your target consumers:
Chatbots
You can now set up automated chatbots on your Facebook page that can be used to browse different kinds of data or request information such as news; or in the case of Burger King, food orders. Smart Communications, Inc. also uses this feature by asking the user what service they want to avail of.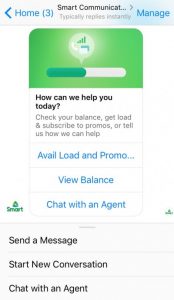 Using bots allows for a smoother relay of information that would otherwise be more difficult to search for on the web. These chatbots provide instant and ready-made connections to any user who initiates conversation.
Messenger Ads
Following the innovation of the Messenger mobile app with chat bots and game apps come Messenger Ads. These ads show up with the sponsored label in the home tab of the said app, much similar to how typical News Feed ads look like with a headline, description copy, image, and calls to action. When users tap the ad, they will be directed to the destination you set upon creating—your website or your Messenger chatbot.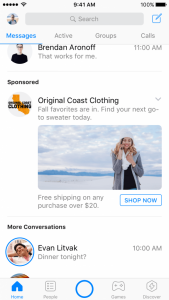 http://www.fortune.com/2017/07/11/facebook-messenger-ads-global/
Furthermore, Facebook has already rolled out its first version of the Discover tab for its users in the U.S. This allows users to browse recently visited brands and places as well as pages they have messaged, creating a great opportunity for your brand to promote your Messenger accounts with ads in the hopes that your account will be featured in the users' Discover tab.
Groups within Facebook Pages
Facebook is giving its Page admins the ability to create their own Facebook Groups within their Page without having to rely on admins setting up separate Groups using their personal accounts. This allows brands to increase engagement within their target market, as well as to create official groups that third parties or fans cannot set up.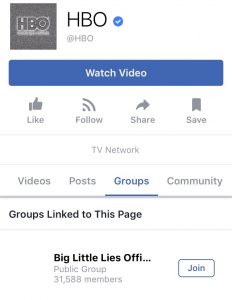 Aside from being able to manage their members more thoroughly with this new feature, admins can analyse member behaviour through real-time metrics on growth and engagement.
Mid-Roll Video Ads
According to ROI agency Zenith's Online Video Forecasts 2017, Facebook is now the second-biggest supplier of video content, right after YouTube, creating opportunities for brands to advertise during the viewing period of users on Facebook. The platform has already started showing ads in the middle of its videos and has even shared the revenue with their publishers, giving them 55 percent of all sales. With a massive viewership of Facebook videos worldwide as well as its retargeting feature, your brands ads would definitely reach your target market.