Social media has significantly changed the way brands and consumers interact. From feedback cards and customer service hotlines, brands have now adopted a social media approach in providing consumers with great customer service experiences. Through their official Facebook and Twitter pages, companies can now instantly respond to customer complaints and inquiries in a conversational tone, in a space where consumers are more relaxed.
Users, on the other hand, are also taking advantage of social media as a means to reach out to brands.  According to The Social Habit, 32% of consumers expect a response time of 30 minutes to an inquiry sent on social media. However, meeting this expected response time shouldn't be the end goal of a brand's social media manager. In this age where every conversation can easily be screen shot, it is important to be extra careful in sending out replies. One wrong message can ruin a company's image.
On the upside, exerting an extra effort in crafting a personalized reply can actually be rewarding for a brand. Apparently, you get plus points for witty replies. In recent years, several amusing exchanges between brands and customers have gone viral online. Take a look at some witty brand replies to complaints and messages on social media.
J.CO Donuts & Coffee, Philippines
Let's say you're a social media manager of a brand, what would you do if a customer asked the page you're handling for a personal advice instead of a consumer-related inquiry? Well, early this year, some netizens decided to poke fun at brands by sending random #hugot questions to official Facebook pages to see how they would respond. Some brands dismissed this as mere trolling, but a few social media managers rose up to the occasion and came up with clever responses which eventually went viral.
Check out J.CO's response to this #hugot question: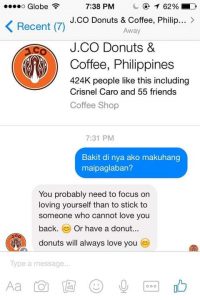 Zark's Burgers
Zark's Burgers took the quirky route by answering a hugot question with something as simple as "Hala nahulog… log… log… log…" which is a famous line from a viral video.  They were confronted with a silly message, but they countered with something even sillier. This approach worked for a food chain like Zark's Burgers, but may not necessarily work for multinational brands.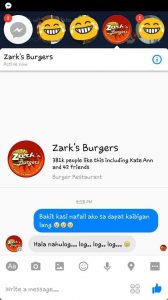 Toyota Motors Philippines
Recently, there has also been a trend of Facebook users asking brands for freebies and products in exchange for likes, comments and shares. Brands were quick to respond to the trend. A certain fast food chain even offered free meals to those who can live up to the challenge. However, when people started asking for more expensive items, the challenge became a little bit annoying. When a certain JC asked Toyota Motors Philippines how many likes, comments and shares it would take to have a free Toyota GT 86, he received a brutal reality check.
See how Toyota's social media team responded to the challenge: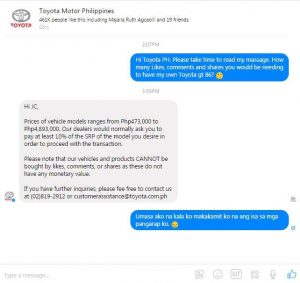 Snapsacks
Local bag brand Snapsacks also had to decline participating in the like-comment-share challenge. As a small-scale enterprise, they reminded their customers to patronize their products and stop the culture of freeloading. They even encouraged kids to study harder and start saving up for their bags instead. To avoid being rude, smileys were necessary.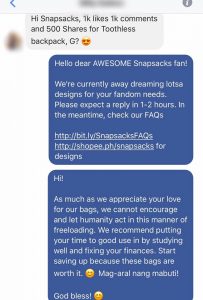 GMA Network
Although not a consumer brand, news organizations like GMA News also have to deal with Facebook inquiries and comments from their online readers. While brands have to remain polite at all times, news organizations have more leeway with the tone of their replies, so long as they remain truthful, accurate and objective in delivering the news. When a commenter indirectly questioned the integrity of GMA News, they resorted to witty sarcasm just to put their point across.

MMDA
Sometimes, social media managers take on a more proactive role. Instead of waiting for a customer inquiry, they initiate the conversation to engage their followers. The witty people behind MMDA's social media pages have been doing this for years.
Check out MMDA's surprising reply to radio DJ Andi Manzano when she innocently tweeted that she forgot it's coding day. This was way back in 2010, but will always be a classic.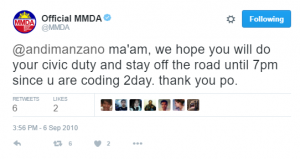 Responding to complaint and messages is an essential part of social media and customer relationship management. Deciding whether to go witty depends on the brand strategy, but whatever happens, do not seenzone your customers.