The Philippines is no stranger to the issues of illegal fishing and wildlife trafficking that threaten coastal ecosystems. This is why several groups and government agencies, including Smart Communications, Inc. the United States Agency for International Development (USAID), the Philippine National Police-Maritime Group, and Rising Tide, join forces to create a text hotline for people to report such illegal activities.
Introducing Project #DALOY3456, a text hotline, backed by an information management system that can filter and analyze reports, generate heat map, trend setting, and referral to other responding units. This is mainly targeted to coastal communities where people may not have access to smart phones and data connection all the time but are surely capable of sending SMS or texts for reporting.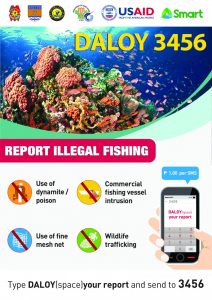 How do they report illegal maritime activities? Simple! All they have to do is text DALOY<space>(their message or report) and send to 3456. These reports are received immediately and in real time. Over 100,000 police officers from targeted communities are ready to be mobilized once reports have been confirmed.
DALOY stands for Dedicated Alert Lines for Ocean BiodiversitY and it uses Smart Communications' technology and Rising Tide's access number or gateway. Project #DALOY3456 has been pilot-tested in Tawi Tawi in 2014 and is reported to be a success, with over 5,000 verified reports to the hotline.
Rising Tide continues to create a new wave of mobile and digital techxperiences that delivers results and for a cause. We affirm our support for environmental protection and maritime diversity with Project #DALOY3456.