The era of straightforward advertising may be over. Brands and companies now realize that customers do not want to simply look at products and their specifications. Consumers now want an entertaining and immersive experience that would make them feel good about the brand.
So what is Branded Content Experience? 
While there is no single definition for branded content experience, it is basically a wholistic marketing approach that uses content and technology. With the advent of social media and new technology like augmented reality and virtual reality, brands are exploring more and more how they can give their consumers an experience that would raise  their affinity with the brand. It works mainly because the customers feel that they are not being sold to and that they themselves have chosen to undergo or experience what the brand offers.
Another reason why content experiences are more effective is because they engage the customers. The customers are actively participating and they do not just sit idly to watch something.
Take for example this campaign by fashion designer Michael Kors for their 2014 Holiday Collection. It's an interactive catalog where you can shop for a model's look instead of just viewing the collection. The 24-page web catalog also tells a story of that model so you know how to dress her appropriately.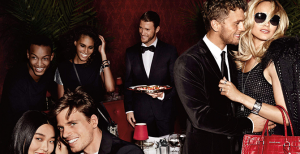 Content + Technology
Other brands are also maximizing the use of innovation to make their branded content experience more exciting. Innisfree, a makeup brand in South Korea, made use of virtual reality to attract female customers to their booth. They immersed the female customers in the virtual story which also features Lee Min Ho, a popular Korean star.
This created a hype not only for the brand but for the use of this kind of technology as well. It became evident that virtual reality is not just for games, but it can also be used for branded content experiences.
Of course, you may have the most impressive and newest technology, but this should go hand-in-hand with content. If the storytelling does not make sense, the consumer will simply zone out or leave. It is important to remember that content is still king and the writing and visuals should be striking and appealing to make the experience more engaging.
Simple executions of branded content experiences can also be sponsored quizzes or content in premium channels or even specially-designed mobile magazines!
If you're interested in branded content experiences or you want to learn more about it, don't hesitate to contact us at contact@13.229.113.77